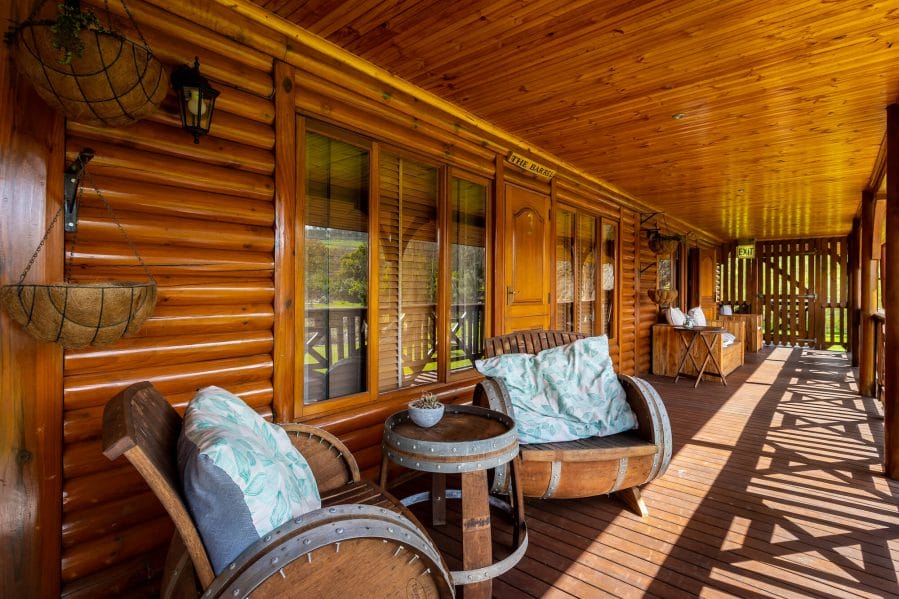 HEAR! HEAR! A Toast Spirit SPIRIT & Adventure Presented by The Barrel Room
Enjoy a comfortable stay in The Barrel Cabin at the Log Cabin. Nestled in the winelands of South Africa, the inspiration for this unique accommodation is appropriate for its surroundings. The Barrel Cabin comes from the reclaimed wine barrels that are used to furnish and decorate the suite.
These retired barrels once held Stellenbosch wine, and now, the barrels are used as a unique accent wall in our comfortable cabin. The wooden barrels have an incredible patina from their years of service in the wine cellar. Just like the wine benefited from the cellaring process, the wood of these barrels has only improved with age.
Spend your days touring the winelands and going on adventures, and retire to the comfort of The Barrel Cabin in the evening for a restful night's sleep. Enjoy the landscape from the beautiful balcony that overlooks the countryside. You can even sip on local wine while you take in the view. The Barrel Cabin makes for a perfect self-catered retreat in Western Cape!
Experience the Heart of Resort Life in The Boland Winelands
The rustic charm and character of the Log Cabin makes any stay worth its while. Whether you're on a romantic holiday, a trip with friends or family, or you're traveling to the Boland Winelands for another reason, we're sure you will enjoy the amenities we have to offer in our cosy accommodations.